Google Business Profile Scams: Protect Your Listing From Fraud
By now, it may come as no surprise to you that there are some not-so-honest folks roaming around the vast realm of the Internet. Between phishing scams, stolen credit card details, and other traps, there are plenty of pitfalls to navigate in the online landscape. But, one area you may not have previously thought to guard against scammers is your Google Business Profile (formerly known as Google My Business). That's right – scammers are actively trying to snatch away your Google Business listing. If they manage to pull the Google Business Profile scam off, these unscrupulous people can wreak havoc on your business' reputation and make off with your precious web traffic.
Google Business Profile Fraud's Reach
Can you believe that Google had to fend off over 100 million sneaky edits to Google Business Profiles in 2021? These were attempts made by scam artists who wanted to tinker with those listings. And wait for it – Google actually had to kick out a whopping seven million fake Business Profiles just last year.
How Does the GBP Scam Work?
But what's the deal with this whole Google Business Profile scam? Well, the tricksters play a game where they try to get their hands on your GBP listing. They do this by asking Google for ownership rights. And guess what? Google sends you a real-deal email, asking for your nod of approval.
Here's how it looks: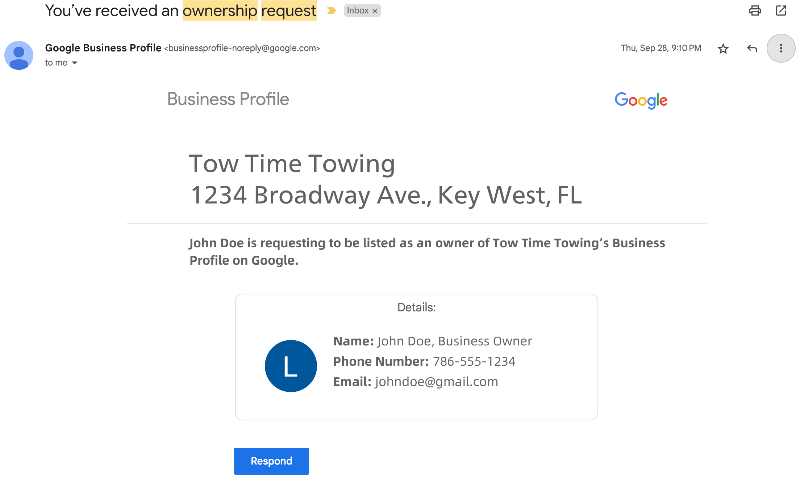 Now, if you decide to give that email the cold shoulder or hit the delete button, your listing becomes like an open invitation. Anyone can swoop in and claim it. And once they've got it, they can mess things up big time – change stuff you don't want changed, change the phone number to a scam call center, give your business a weird new name, grab your reviews, or even vanish your GBP into thin air! Sometimes they even play hardball and demand you pay up if you want control back.
Believe it or not, Google's own "Request Ownership of a Business Profile" page says, "If you don't get a response [from your access request] after 3 days, you might have the option to claim the profile yourself."
That's why, when an official looking email from Google lands in your inbox (just make sure the sender's email ends in "@google.com"), regarding someone trying to sneak into your GBP, you can't just brush it off. 
Jump into action mode! Click that "Review Request" button, kick out the fake request, and spill the beans to Google about why.
Even if you figure out that the supposed alert email is not from Google, don't just toss it aside. Give Google a shout and tell them about the scammy attempt.
How To Protect Your GBP From Fraudulent Claims & Edits
Now, let's chat about what you can actually do to protect your GBP from being nabbed by these swindlers:
Bag It and Verify It: If you haven't already, claim and confirm your Google Business Profile.
Pack It with Info: Fill up your GBP with all the good stuff and keep it updated.
Email Love: Make sure the owner's email is set as the big boss.
Lock the Gates: Keep access to your GBP on a tight leash to avoid any funny business.
Keep an Eye Out: Regularly check in on your GBP and give it a once-over to make sure it's up to date and spot-on.
Supercharge Security: Turn on two-factor verification to keep out unwanted snoops.
Stay in the Loop: Keep an ear to the ground for any security updates Google has for GBP listings.
Call in the Pros: If you're feeling stuck, get some help from the experts at Whiterail. We've got you covered!
Remember, your Google Business Profile is like your trusty sidekick when it comes to local search engine smarts. In plain words, if you want folks to find your business in the neighborhood, you've got to have a spick-and-span Google Business Profile. Oh, and the best part? The listing is totally free!
Whiterail Is Your Partner in GBP Management & Safety
I you're feeling a little queasy about the safety of your GBP, whether you need to give your existing one a spruce-up or you're starting from scratch, we're here to lend a hand. Whiterail knows the ropes and will tailor a plan to safeguard and supercharge your Google Business Profile. 
And, we're not stopping there – we'll cook up a full-blown digital marketing strategy for your towing business. Ready to dive in? Give us a shout and let's chat – no strings attached!